Although I already knew it, I have the feeling that this street of Barcelona is now more alive than ever. Join me to discover the Top 10 hotspots…
Pantaleón Enrique Joaquín Granados Campiña, better known as Enrique Granados, was born in Lérida, July 27, 1867 and was a Spanish composer, pianist and pedagogue linked to the modernist movements.
He is known mainly for his piano works, especially for the suite Goyescas (1911), and the opera with the same name. He created the piano school in Barcelona, which has produced relevant figures such as Frank Marshall, Monserrat Torrent, Narcisa Freixas, Rosa Sabater, Alicia de Larrocha and Douglas Riva; and he is usually framed in the modernist movements, especially in symbolism.
He died fatefully on March 24, 1916 in the shipwreck of the ship Sussex, in the English Channel, when it was torpedoed by the German navy in the course of the First World War; and at present, the personal collection of Enrique Granados is conserved in the Library of Catalonia and in the Museum of Music of Barcelona.
But leaving aside the character and focusing on the Barcelona street that bears his name… From top to bottom, starting at Diagonal, I invite you to discover, the best bars and restaurants, stores and galleries, the newly opened spaces and of course, its best kept secrets.
Green and Berry (Calle Enrique Granados, 153)
Although it is already a few years old, it's a must in this Top 10. This cafeteria and lunch room located just at the beginning of the street stands out for its healthy menu, environmentally responsible production, pressing and bottling. 100% of their sweets and juices are vegan, they support the conservation of the environment, animals and defend that it is possible to maintain a balanced and healthy diet without the presence of animal protein. The menu is 95% vegan, because they also offer some options for non-vegans and most importantly, they work only with km 0 products and the material they use for home delivery and take-away is wood, cardboard and recycled paper.
Star dishes: salads and bowls with superfoods, any of their delicious cold-pressed juices, their vegan burgers accompanied with freshly baked potatoes and for dessert the vegan Oreo or Raw balls.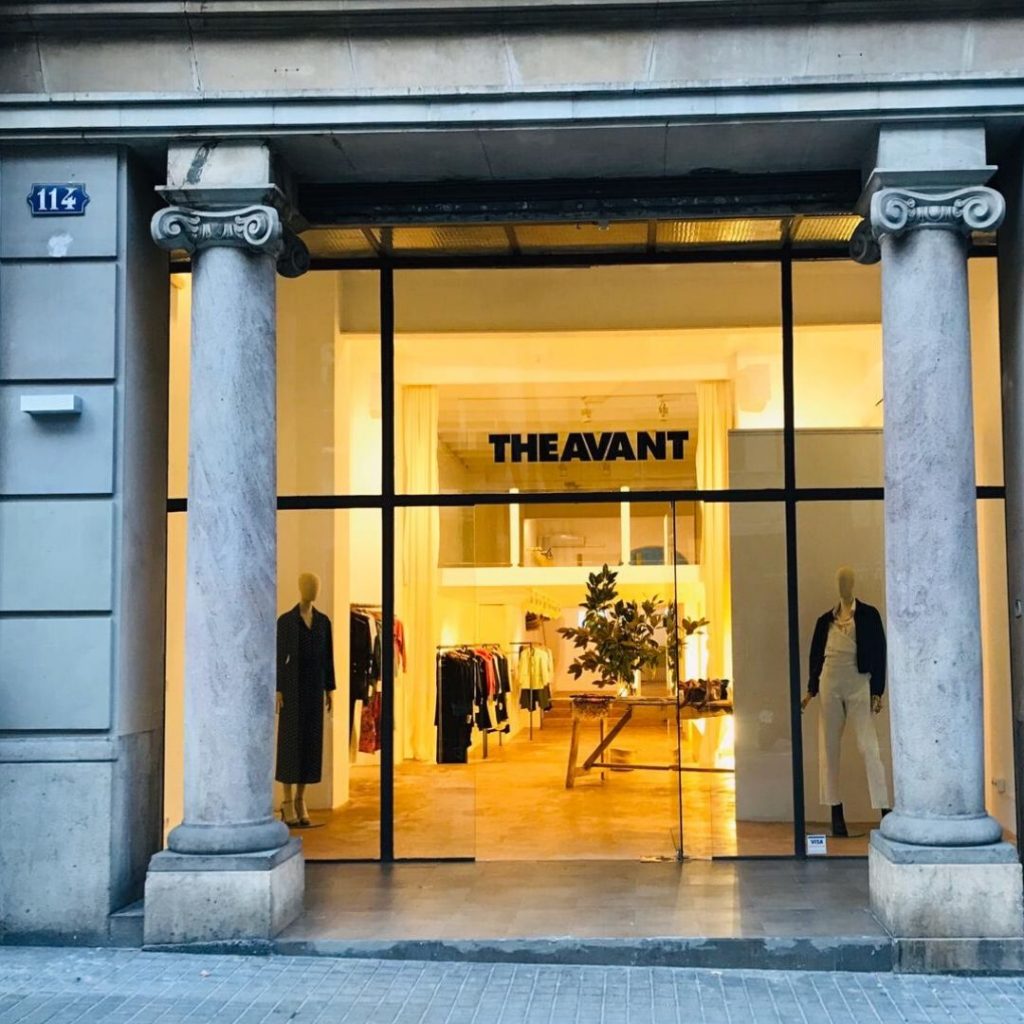 The Avant (Calle Enrique Granados, 114)
After studying at the Royal College of Art in London, Barcelona designer Silvia Garcia Presas launched her brand The Avant. She started parading in her city and selling in stores, in 2009 she opened her first store and in 2019 she inaugurated the brand's flagship store, a space that expresses her character and her Mediterranean origin. The world of colors and textures from her beloved mountain, from her painting and drawing classes as a child, and her passion for dance, come together to bring her to the world of fashion dedicated to women who dress themselves, close and real, who are attracted to her world. She has always worked with workshops close to her community and the brand has grown hand in hand with these workshops. THEAVANT's team of women, of different ages and backgrounds, love her work and share her passion for fashion, good taste, class and quality clothing.
La Moderna (Calle Enrique Granados, 110)
Welcome to La Moderna, a winery that takes advantage of the mythical Esplugas winery where they used to sell wines in bulk. It maintains the same facade, and two names on it, the old and the new, respecting the original physiognomy both inside and outside. It offers a very good menu of alcoholic beverages (wines, beers, Yzaguirre bulk vermouth) and also many options for eating and tapas with good quality products. The interior is small, but they also have semi-private rooms and tables on the terrace. In addition to the cozy space and the good gastronomic offer, they stand out for their good customer service and affordable prices. Favorite dishes: Mojama with almonds, Russian salad, croquettes, anchovies in vinegar and classic dishes such as Rabo de Toro, meatballs, pig's ear, tripe… In addition to sausages, pate, smoked cold cuts and sandwiches.
Primitiu (Calle Enrique Granados, 106)
Primitiu is the extended version of what used to be the back room of The Avant store. Here you will find a selection of objects from all over the world that designer Silvia Garcia Presas collected during her travels. Now the project has its own entity and brings together delicate pieces of craftsmanship to dress our homes coming from Brazil, Iran, Morocco, Peru and France. In addition, everything in the store vindicates local production, the hands and people involved to make each creation a reality, so the designer does not negotiate prices with artisans and only buys carefully selected pieces, with the uniqueness and exclusivity that all these includes.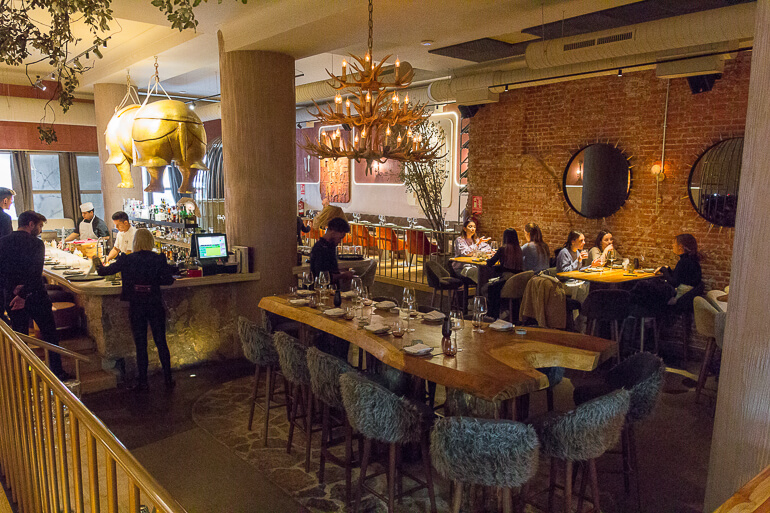 Salvaje Barcelona (Calle Enrique Granados, 86)
It will soon open its doors to the public on Enric Granados, replacing the monumental restaurant owned by Leo Messi and Grupo Iglesias, Bellavista del Jardín del Norte. The new and sophisticated 2,000 square meter restaurant will be directed by the Venezuelan chef Fermín Azkue and will offer «a new concept of Japanese signature cuisine that will mix design, tradition and quality, as well as a very powerful cocktail offer, just like the one we already have in Madrid». The interior design of Salvaje Barcelona will also be groundbreaking and exquisite, with statues of golden animals and exclusive reserved areas and a service that will be bustling, casual and playful. And as offered in the Madrid restaurant, it will have an imposing sushi bar, with a strong Mediterranean influence and incursions into Nordic cuisine; a Japanese wood-fired grill; as well as rice dishes, noodles, fusion tapas and also some vegetarian options. But above all, there will be no shortage of protein: Galician beef, wagyu beef, carabineros, wild Alaskan lobster or Mediterranean red tuna. Undoubtedly, a high-end cuisine, in an elegant place, which can be enjoyed right after Easter.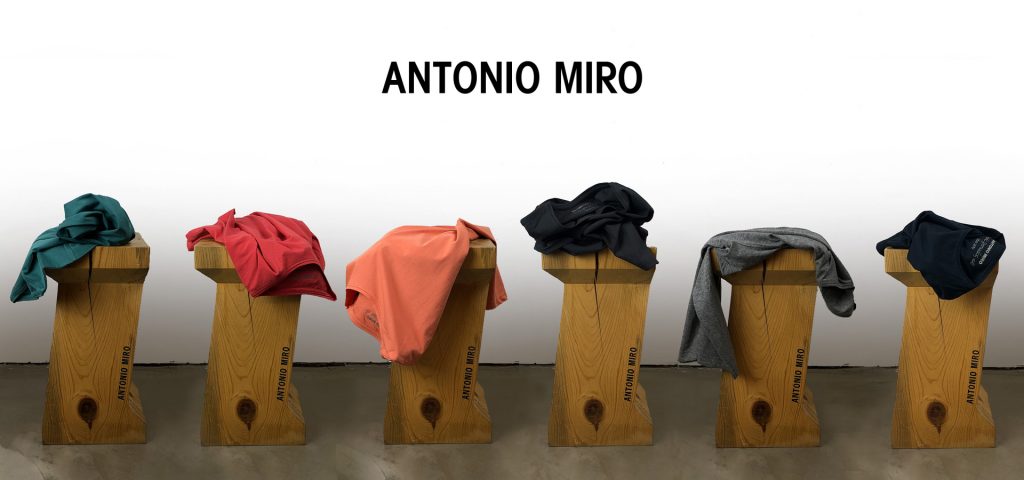 Antonio Miró (Calle Enrique Granados, 46)
The Antonio Miró store is a fashion and accessories flagship of international prestige with its own vision of design. The brand was born in Barcelona more than four decades ago and combines design, authenticity and elegance with collections marked by sobriety and the highest quality materials and finishes. Antonio Miro's designs carry the purest Mediterranean essence, extol the Barcelona brand and are nourished by direct contact with its contemporary environment, music, art, cinema and architecture. With this presentation, it is not surprising that well-known figures such as actor Daniel Brühl, former Barça coach Josep Guardiola, or swimmer Ona Carbonell among many others wear this brand. In addition to parading historically on the best catwalks, Antonio Miró has always participated in global projects such as the creation of the uniforms for the 1992 Olympics, the launch of innovative lines of interior design and decoration and has been recognized numerous times with the Award for Best Collection of the 080 Barcelona Fashion Catwalk.
Alba Granados (Calle Enrique Granados, 34)
If what you are looking for is market cuisine with a strong specialization in top quality products, such as Carne Roxa de Buey or wild fish from the fish market cooked on the charcoal grill, Alba Granados is undoubtedly your restaurant. Here you can taste traditional dishes very well executed, based on Catalan cuisine, but with a subtle touch of creativity. Diners can also enjoy classics such as huevos Estrellados, snails or croquettes, which are part of the unmissable dishes of Barcelona along with its rice dishes. But also, looking to the future and taking into account the strong demand of customers, if you wish, you will find some healthy dishes in their menu. And that's not all, on the second floor you will find the Bala cocktail bar, decorated in the purest style of the 50's, live music and a carefully selected menu of international signature cocktails or, if you prefer, personalized.

Deu i Deu (Calle Enrique Granados, 32)
After the success of its first store on Calatrava street, Deu i Deu dared to open a second one in Enrique Granados street, knowing that it is one of the most charismatic streets of Barcelona. In this second location in the heart of Barcelona's Eixample, the store breathes the same air as the first, but now giving the possibility to expose more varied pieces, encouraging many more people to know them and maintaining the same premise of «offering quality interior design, selecting each of the objects with great affection so that our customers enjoy them and fall in love every day a little more with their home». Finally, and as a perfect complement, they also share the space with the picture framing workshop The Workshop.

Galería Marlborough (Calle Enrique Granados, 6)
If you are an art lover and you don't know it yet, you will love to discover the wonderful Marlborough Gallery. Founded in Madrid in 1992 under the direction of Pierre Levai, who joined the firm in 1964 and later became President of Marlborough New York in 1978; it surprised its followers with its first exhibition showing the last ten years of Francis Bacon's work, becoming the last solo exhibition organized during the life of the well-known artist. Later in 2006, Marlborough Gallery opened a second space in Barcelona, where it continues its legacy in contemporary art and representation of the most famous and prominent artists from all over the country. As an independent gallery, it continually collaborates with Marlborough New York and London to present the work of international and emerging artists in Spain. In addition to standing out in the primary market, betting on the acquisition and sale of 20th century masterpieces, it continues to work with the most important museum collections and public spaces in Spain through the organization of projects and exhibitions of its artists. A true masterpiece in the city of Barcelona, a must-visit.

Topik Restaurant (Calle de Valencia, 199, esquina con Calle Enrique Granados)
Last but not least… The gastronomic adventure of Adelf Morales began during his childhood, when he discovered, thanks to family trips, the kitchens of Arzak, Casa Nicolasa, Casa Botín or the Jockey in Madrid «places where the cuisine of this country was born», reflects the chef of Topik. Afterwards, his interests led him to the Escuela de Hostelería de Barcelona (ESHOB), he worked as a cook with Martín Berasategui in Lasarte; Bodegón de Alejandro, in San Sebastián; Ca'Sento, in Valencia, Ca l'Isidre, in Barcelona, and Arzak in San Sebastián before packing his bags and heading to Italy to work at Antica Osteria del Ponte, in Milan, Pierino Penati, in Leco, and later he was head chef at the Casino de San Remo. When he returned he decided to take the leap to Japan, he learned the secrets of Japanese food in several izakayas (taverns) and traditional restaurants in Osaka and upon his return; and after being part of several gastronomic projects, including the restaurant Cinc Plats, in 2009 he opened his own restaurant with his wife, the interior designer Eva Mele. In Topik Restaurant the cuisine is conceived as an experiential experience where everything revolves around a concept as simple as necessary «product, product and product», they have a menu and tasting menu and are specialists in tuna, oysters, sea urchins, rice and sake. Star dishes: all of them, but especially the baked wild fish of the day. Bon appetit! Written by Clara De Nadal Trias originally published on BLocal